Eugene Fitch Ware
aka Ironquill



(1841-1911)
Kansas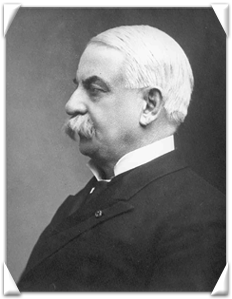 photo used with the permission
of
Eugene Ware Elementary School, Fort Scott, Kansas
[The photograph from which the digital image was created hangs at Eugene Ware Elementary School. Information on the back of the photograph reads: "Presented to Eugene Ware School , April, 1949, by his three daughters: Abby Ware Nies, Jeannette Ware Nelson, and Amelia Ware Baird."] [My thanks to Eugene Ware Elementary School, its principal, Billie Jo Drake, and to Linda Hessong, for the photograph and the information about it.]

Eugene F. Ware was born in Hartford, Connecticut on May 29, 1841. His family moved to Burlington, Iowa when he was a young boy. He learned harness-making and did harness work until he enlisted in an Iowa regiment at the beginning of the Civil War. He entered the regiment a private and at the end of his service in 1867 was a captain. Ware moved to Kansas and homesteaded a farm. Nathaniel Thompson Allison in the History of Cherokee County Kansas and Its Representative Citizens (1904) describes Ware's settlement in Cherokee County, Kansas:
Salamanca.—This township had its share of the early settlers. John Whitcraft, who is 76 years old, and who now lives in Columbus, came to the township in April, 1866. He kept a little store at Millersburg, the glory of which has long since passed away; and there he sold goods and provisions to the few settlers then there, whose manners and customs were primitive and simple, and whose wants were few and easily satisfied. Eugene F. Ware, now United States Commissioner of Pensions, who came to Cherokee County, with his brother, and was taking his place among the early settlers, was one of Mr. Whitcraft's best customers. Mr. Ware was a young man, who had laid a claim on a quarter section up in Ross township, and he was then breaking the virgin soil, with a big plow drawn by four yoke of oxen. He was a sturdy yeoman among his fellows, all of whom liked him for his simplicity of manner, his sterling integrity and his native brilliancy of intellect. Mr. Ware yet owns a large and very valuable tract of land in Ross township.

* * * *

In a way, or for good reasons, Cherokee County lays some claim to Eugene F. Ware . . . . Mr. Ware, when a very young man, settled in what is now Ross township. Various stories are related of his early struggles. He took claim, and it is certain that he lived much as other people lived here in those days. It is said that he broke prairie with a large plow drawn by ox teams, and that he often came to town in an ox wagon, and that he sometimes came barefooted. Others say that he did not go barefooted, in public; but it is admitted that he was a sturdy plowman, and that he never shunned hard work. Mr. Ware was a close student while he was working on his farm, and it was not long until he quit tilling the soil, studied law and was admitted to the bar. But he liked other things also. He had a vivid imagination, loved literature and sometimes wrote poetry, some of which is unexcelled. Here is his poem,—"The Washerwoman's Song,"—which, with other poems, was published in a little book, "The Iron Quill," which has given the author more than local fame:

In a very humble cot,
In a rather quiet spot,
In the suds and in the soap,
Worked a woman, full of hope;
Working, singing, all alone,
In a sort of undertone,
"With a Savior for a friend,
He will keep me to the end."

Sometimes happening along,
I had heard the semi-song,
And I often used to smile,
More in sympathy than guile;
But I never said a word
In regard to what I heard,
As she sang about her friend
Who would keep her to the end.

Not in sorrow nor in glee
Working all day long was she,
As her children, three or four,
Played around her on the floor;
But in monotones the song
She was humming all day long,
"With the Savior for a friend,
He will keep me to the end."

It's a song I do not sing,
For I scarce believe a thing
Of the stories that are told
Of the miracles of old;
But I know that her belief
Is the anodyne of grief,
And will always be a friend
That will keep her to the end.

Just a trifle lonesome she,
Just as poor as poor could be,
But her spirit always rose,
Like the bubbles in the clothes,
And though widowed and alone,
Cheered her with the monotone,
Of a Savior and a friend
Who would keep her to the end.

I have seen her rub and scrub,
On the washboard, in the tub,
While the baby soaped in suds,
Rolled and tumbled in the duds;
Or was paddling in the pools,
With old scissors stuck in spools;
She still humming of her friend
Who would keep her to the end.

Human hopes and human creeds
Have their roots in human needs;
And I would not wish to strip
From this washerwoman's lip
Any song that she can sing,
Any hope that songs can bring;
For the woman has a friend
Who will keep her to the end.*

It has been said that this poem, when read by Theodore Roosevelt, some years before he became President of the United States, touched a tender spot in his "strenuous" nature, and that through it he was led to seek Mr. Ware's acquaintance. The acquaintance ripened into a close friendship, and afterward, when there was a vacancy, and the appointing power had come to him, he made Mr. Ware his commissioner of pensions. The appointment, though it may have been made through the following of a sentiment, was prompted by good business judgment, and the people, particularly those of Kansas, have given it thorough approval. [History of Cherokee County Kansas, 1904]
[*The version of the poem found in the History of Cherokee County Kansas has been corrected to conform to "The Washerwoman's Song," in Eugene Fitch Ware, Rhymes of Ironquill (Topeka, Kansas: T.J. Kellam, 1885)]
Ware later took up residence at Fort Scott, Kansas where he studied law. He was admitted to the bar in 1871 and in 1872 became editor of the Fort Scott Monitor. The next year he opened a law office in Fort Scott. It was during this period that Ware began writing poetry under the name "Ironquill."
Ware, in addition to his work as a lawyer, businessman, and his writing (poetry and historical works) served in various public offices. He was twice elected to the state senate, and in 1888 was a presidential elector-at-large for Kansas. In 1893 Ware moved to Topeka and joined the law firm of Gleed & Gleed. In 1907 he was appointed Commissioner of Pensions by President Theodore Roosevelt. In 1911, Ware would move again, this time to Kansas City where he take up the practice of law with his son. In 1911, in the spring, he retired from the practice of law and returned to his farm. On July 1 of that same year he died at Cascade, Colorado. Ware is buried in the National Cemetery at Fort Scott.
[Source: Biographical sketch accompanying the publication by Ware's children of one his his unpublished papers. See Eugene F. Ware, History of Sun-God Section, at note 1, 6 (3) Kansas Historical Society Quarterly 295 (1937)]
Eugene Fitch Ware
Kansas: A Cyclopedia of State History, embracing events, institutions, industries, counties, cities, towns, prominent persons, etc. ...
(Chicago: Standard Pub. Co., 1912)(vol. 2)
Eugene Fitch Ware
Kansas State Historical Society
Letter to President Roosevelt Presenting Ware's Poetry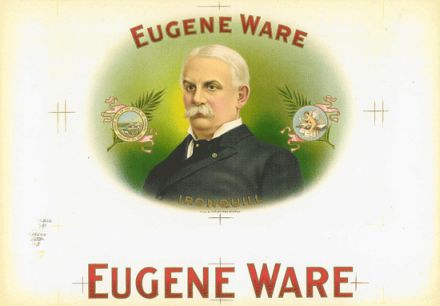 Cigar Box | Inner Label
Collection of James R. Elkins || label acquired from Cerebro
(Original Vintage Antique Label Art)(East Prospect, Pennsylvania)

Poems
[To-day] [Childhood] [John Brown] [Dewey] [Sampson ] [The Kansas October]
[Quivera-Kansas] [Winter] [Type] [The Aztec City]
Poetry
Eugene Fitch Ware, Rhymes of Ironquill (Topeka, Kansas: Kellam, 1885)(Kellam, 1889)
(Kellam, 1889)(Chicago: A.C. McClurg and Co., 1892) [online text] (Topeka: Crane & Co. 5th ed., 1896)(1895) [online text] (London: George Redway, 1898) [online text] (London: George Redway, Popular ed., 1899)(Some of the rhymes of Ironquill: (A book of moods), 10th ed., Topeka, Kansas: Crane & Company, 1900)(Some of the Rhymes of Ironquill, 14th, rev. ed., New York: G. P. Putnam's Sons, 1902) [online text] (New York: G.P. Putnam's Sons, 1905)(G.P. Putnam, 1909)(New York: G. P. Putnam's Sons, 1939)
______________, After Me the Deluge: An Historic Tale (Denver: Smith-Brooks Printing Co., 1894) [pseud. Oliver Ironquill]
Legal Verse Anthologies
Eugene Ware, "Lewis v. State," in Ina Russelle Warren (ed.), The Lawyer's Alcove: Poems by the Lawyer, for the Lawyer and about the Lawyer 235-237 (New York: Doubleday, Page & Company, 1900)(Buffalo, New York: William S. Hein & Co., 1990)
Writings
Eugene Fitch Ware, The Irrigation Laws of Kansas: With Extracts from the Laws of the United States on the Subject of Irrigation (Topeka, Kansas: Crane & Company, 1896)
_______________ (trans.), Roman Water Law: Translated from the Pandects of Justinian (St. Paul, Minnesota: West Publishing Co., 1905)(Littleton, Colorado: F.B. Rothman, 1985)
_______________, From Court to Court: Setting Forth the Method of Taking a Case from a State Court to the United States Supreme Court (Topeka: Printed by the Hall Lithographing Co., 1906)(pamphlet)(St. Paul, Minnesota: West, 1930)
_______________, The Glan-ik; a Trade Language Based upon the English, and Upon Modern Improvements in Shorthand, Typewriting and Printing (New York, 1906) [online text]
_______________, The Lyon Campaign in Missouri: Being a History of the First Iowa Infantry and of the Causes Which Led up to its Organization, and how it earned the thanks of Congress, which it got: together with a birdseye view of the conditions in Iowa preceding the great Civil War of 1861 (Topeka, Kansas: Printed by Crane, 1907) [online text]
_______________, The Autobiography of Ithuriel: A Chapter in Psychology (Topeka, Kansas: Printed by Crane & Company, 2nd ed., 1909)(under the pseudonym Ironquill) [online text]
______________, The Indian War of 1864 (Topeka, Kansas: Crane & Company, 1911)(New York: St. Martin's Press, 1960)(Lincoln: University of Nebraska Press, 1994)
Writings: Articles
Eugene F. Ware, History of Sun-God Section, 6 (3) Kansas Historical Society Quarterly 295 (1937)
Bibliography: Articles
James C. Malin, Ironquill's "The Washerwoman's Song," 25 (3) Kansas Historical Society Quarterly 257 (1959)
____________, Eugene Ware's Concern About a Woman, a Child, and God, 25 (4) Kansas Historical Society Quarterly 402 (1959)
____________, Eugene Ware and Dr. Sanger: The Code of Political Ethics, 26 (3) Kansas Historical Society Quarterly 255 (1960)
_____________, Eugene F. Ware, Journeyman Poet—Acceptance by Fort Scott, 31 (4) Kansas Historical Society Quarterly 396 (1965)
____________, Eugene Ware, Master Poet—Acceptance by Fort Scott and the State of Kansas—History as Business (Commerce), and as War, 32 (4) Kansas Historical Society Quarterly 401 (1966)
_____________, Notes on the Several Editions of Eugene F. Ware's Rhymes of Ironquill, 33 (4) Kansas Historical Society Quarterly 481 (1967)
____________, Notes on the Poetic Debts of Eugene F. Ware—Ironquill, 35 (2) Kansas Historical Society Quarterly 165 (1969)
____________, Eugene F. Ware's Literary Chronology, 37 (3) Kansas Historical Quarterly 314-332 (1971)
C.S. Gleed, "Eugene Fitch Ware"; William E. Connelley, "Acceptance [of Bronze Bust of Mr. Ware] on Behalf of the Historical Society"; C.E. Cory, "Eugene Fitch Ware as a Literary Man"; J.S. West, "Eugene Ware," in 13 Kansas Historical Collections 19-71 (1913-1914)
Eugene. F. Ware. Kansas Lawyer and Poet. Obituary, 18 Case & Comment 283 (1911)
Brian Moline & M.H. Hoeflich, Some Kansas Lawyer-Poets, 55 U. Kan. L. Rev. 971, at 971-978 (2007)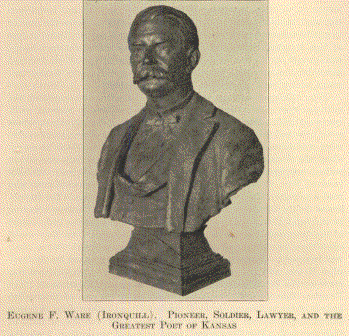 Photograph of Bronze Bust
Kansas State Historical Society, Topeka, Kansas
in
William E. Connelley, A Standard History of Kansas and Kansans
(Chicago: Lewis, 1918)(vol. 2)

[used with permission of Carolyn Ward]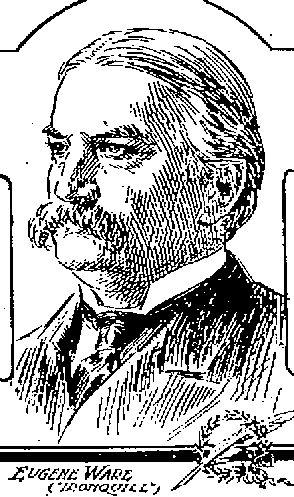 \

Rock Valley Bee (Iowa)
Aug. 11, 1911, p. 3

Research Resources