Richard Henry Wilde



(1789-1847)
Georgia & Louisiana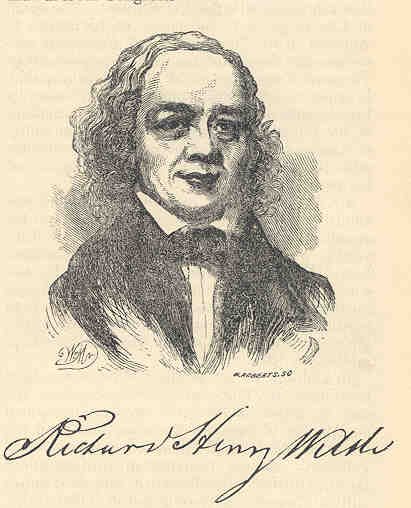 Evert A. & George L. Duyckinck, The Cyclopedia of American Literature 805
(Philadelphia: William Rutter & Co., 1880)(Vol. 1)
Richard Henry Wilde was born in Dublin, Ireland on September 24,1789 and came to America at age eight. Wilde, his father deceased soon after their arrival, and still a young man, moved to Augusta, Georgia to take advantage of a menial job offered him as a clerk in a dry-goods store. When he established himself he convinced his mother to move to Georgia and to open a business of their own. Wilde worked in the business by day and endeavored to educate himself by his own doing at night. At age eighteen he began his study of law with Joseph Hutchinson. Two years after beginning his studies, at age twenty, in 1809, he was admitted to practice law and began his legal practice in Augusta. Wilde would go on to serve as the first Attorney-General of Georgia (1811-1813) and as a member of Congress. From 1815 to 1835, Wilde served a number of terms in Congress but was defeated in several reelection efforts. From 1835 to 1840 he studied abroad, chiefly Italian literature, focusing on Dane and Tasso. In 1843 he moved to New Orleans to establish a legal practice and continue his literary pursuits. He became a professor of constitutional law at the law department at the University of Louisiana at New Orleans. He died of yellow fever in New Orleans on September 10, 1847. After several removals, he now rests in burial at the City Cemetery, Augusta, Georgia.
Of his physical statute and demeanor, Mildred Lewis Rutherford noted that:
Edgar Allen Poe in A Chapter on Autography (II), Graham's Magazine, December, 1841 comments on Wilde reputation as a poet:
RICHARD HENRY WILDE, Esq., of Georgia, has acquired much reputation as a poet, and especially as the author of a little piece entitled " My Life is like the Summer Rose," whose claim to originality has been made the subject of repeated and reiterated attack and defence. Upon the whole it is hardly worth quarrelling about. Far better verses are to be found in every second newspaper we take up. Mr. Wilde has also lately published, or is about to publish, a " Life of Tasso," for which he has been long collecting material. His MS. has all the peculiar sprawling and elaborate tastelessness of Mr. Palfrey's, to which altogether it bears a marked resemblance. The love of effect, however, is more perceptible in Mr. Wilde's than even in Mr. Palfrey's.
W.P. Trent notes that Wilde "made a reputation as a poet by his fugitive poems, were were widely copied in the newspapers. Chief among these was 'My Life is like the Summer Rose,' which was at first intended to appear in a narrative poem dealing with events in Florida The lines appeared in 1815, and having later been translated into Greek were palmed off on many persons as a translation from Alcaeus. . . . Other verses were contribution by Wilde to the magazines of the day, particularly translations from the Romance literatures. His only book was 'Conjectures concerning the Love, Madness, and Imprisonment of Torquato Tasso' (1842). He left many manuscripts, and in 1867 his son edited a narrative poem, 'Hesperia,' which has attracted but little notice." [W.P. Trent, Southern Writers: Selections in Prose and Verse 118-119 (New York: MacMillan Company, 1905)]
Richard Henry Wilde
Biographical Directory of the United States Congress

Richard Henry Wilde
Rufus Wilmot Griswold, The Poets and Poetry of America 104
(Philadelphia: Carey and Hart, 1848)

Richard Henry Wilde
Appleton's Cyclopedia of American Biography
(New York: D. Appleton and Company, 1887-1889)(James Grant Wilson & John Fiske eds.)(6 vols.)

Introduction to Literature: Antebellum Era
Documenting the American South
University of North Carolina

Poems
My Life is Like the Summer Rose
Originally entitled "Stanzas," and inscribed to Ellen Adair,
daughter of General John Adair of Kentucky
[Stanzas] [Stanzas] [To the Mocking-Bird] [To the Mocking-Bird] [A Farewell to America] [A Farewell to America]
Poems
Thomas M'Caleb (ed.), The Louisiana Book: Selections from the
Literature of the State 491-493
(New Orleans: R.F. Straughan, Publisher, 1894)
Poetry
Richard Henry Wilde, Hesperia, a Poem (Boston: Ticknor and Fields, 1867)(William Cumming Wilde, ed.)(William Cumming Wilde was his son)
Writings
Richard Henry Wilde, Conjectures and Researches Concerning the Love, Madness, and Imprisonment of Torquato Tasso (New York: Alexander V. Blake, 1842) [online text]
Bibliography
Edward L. Tucker, Richard Henry Wilde: His Life and Selected Poems (Athens: University of Georgia Press, 1966)
Charles C. Jones, Jr., The Life, Literary Labors and Neglected Grave of Richard Henry Wilde (Augusta, Georgia: 1885)(21 pgs.)
Bibliography: Articles & Encyclopedias
Douglas C. Gronberg, The Problem of the Pseudonym and the Fictional Editor in Richard Henry Wilde's Hesperia: A Poem, 66 (4) Georgia Historical Quarterly 549-554 (1982)
Edward L. Tucker, "Richard Henry Wilde," in Eric L. Haralson (ed.), Encyclopedia of American Poetry: The Nineteenth Century (Chicago: Fitzroy Dearborn, 1998)
Nathalia Wright, The Italian Son of Richard Henry Wilde: A Sequel, 53 (2) Georgia Historical Quarterly 201-204 (1969)
Research Resources

Richard Henry Wilde Letter
Southern Historical Collection
Manuscripts Department Library
University of North Carolina
Narrative of the Translation of Richard Henry Wilde's
Lament Of The Captive
Georgia Historical Society
Papers of Richard Henry Wilde
University of Virginia
Charlottesville, Virginia
Papers of Richard Henry Wilde
Manuscript Division, Library of Congress
Washington, D.C