John Augustine Wilstach



(1824-1897)
Indiana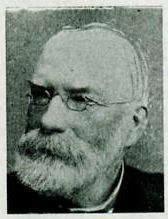 Thomas William Herringshaw, Herringshaw's Encyclopedia of American Biography
of the Nineteenth Century 1022 (Chicago: American Publishers' Assoc., 1898)
"Born in Washington, D.C., on July 14, 1824, John Augustine Wilstach moved to Lafayette, Ind., in 1842. He was educated in a military institute and at Cincinnati College, studied law, and was admitted to the bar in 1850.
From 1852 to 1862 he was a master in chancery, in 1867 he acted as commissioner for Indiana at the Paris Expostion, and from 1870 to 1875 he was commissioner of immigration for Indiana. During his later years he studied philology, lectured, and wrote on literature and history.
He married Elbra Cecilia Patti.
He died at Lafayette on July 24, 1897."
[R. E. Banta, Indiana Authors and Their Books 1816-1916: Biographical Sketches of Authors Who Published During the First Century of Indiana Statehood with Lists of Their Books 343 (Crawfordsville, Indiana: Wabash College, 1949)]
Wilstach practiced law in Indiana. He served, according to Herringshaw, as commissioner of immigration for Indiana from 1867 to 1872, instead of 1870 to 1875 as we find in Banta's Indiana Authors and Their Books 1816-1916. Herringshaw also noted that Wilstach gradually withdrew from the practice of law to devote himself "to literary study and the management of his private estate at Lafayette, Indiana," where he resided. [Thos. W. Herringshaw, Local and National Poets of America 383 (Chicago: American Publishers' Association, 1890]
Wilstach was born in Washington, D.C., on July 14, 1824. "At the age of eleven years Mr. Wilstach . . . entered the Military and Academical Institute at Cincinnati. Two years afterwards the institute was transferred to, and formed the nucleus of, the Cincinnati College . . . ."
"Mr. Wilstach's law practice has been lucrative, and his investments in real estate have brought him large gains. In 1867 he was appointed one of the commissioners to the World's Fair at Paris. In 1874-75 he again visited Europe, remaining seven months. By appointment from Governor Baker he was also Commissioner of Immigration."
"Mr. Wilstach is the author of numerous public addresses, some of them in foreign tongues in Europe. He has elaborated the subject of biblical literature, and has written, as the result of this elaboration, a free, philological translation of the entire bible." [Charles Wells Moulton, The Magazine of Poetry: A Quarterly Review 291-292 (Buffalo, New York, 1893)(vol. 5)]
John Augustine Wilstach
Appleton's Cyclopedia of American Biography
(New York: D. Appleton and Company, 1887-1889)(James Grant Wilson & John Fiske eds.)(6 vols.)
Poetry
John Augustine Wilstach, The Battle Forest, a Poem ([New York]: Mail and Express, 1890) [on line text] ([New York: Press of American Bank Note Co.], 1890)
__________________, The Angel and the King and Other Poems (Buffalo: C. W. Moulton, 1893) [online text]
Writings
John Augustine Wilstach, A Lecture on the Destiny of the West (Lafayette, Indiana: Howe & Co., 1855)
Translations
J. A. Wilstach, The Works of Virgil (Boston: Houghton, Mifflin, 1884)(2 vols.)(Boston: Houghton, Mifflin and Company, 1888)
___________, The Divine Comedy of Dante (Boston: Houghton, Mifflin and Company, 1888)(2 vols.) [vol 2: online text] [review]