William Winter



(1836-1917)
New York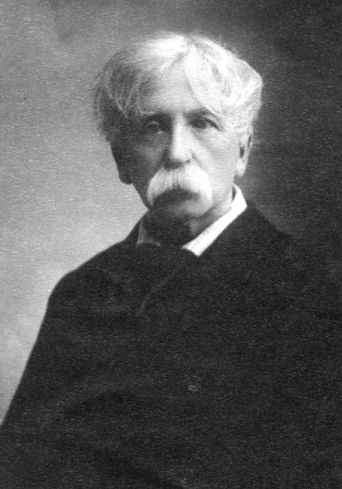 [Photographic Print, 1885]

[Source: Picturehistory.com]
"WINTER, William, b. Gloucester, Mass., 15 July, 1836. He graduated at the Harvard law School, and for a time was in the office of Rufus Choate. In 1859 he removed to New York, and soon won respect by the standard of his work for the 'Saturday Press,' 'Vanity Fair,' 'Albion,' etc. With an instinct for comradeship, he was the attached friend of George Arnold, O'Brien, and others among his lot cast in the struggling days of authorship, and he survived to become their loyal editor and memorialist. Since 1865 he has been the dramatic critic of the N.Y. 'Tribune,' and in that capacity has gained distinction for both his journal and himself . . . . Mr. Winter's home is on Staten Island, where he has associated his name with the Staten Island Academy, by founding its Arthur Winter library, in memory of a gifted and favorite child. In New York he long has held theprimacy as poet and orator of festive or memorial occaions, having the stops of humor and pathos at full command in classical speech as well as in his song."
[Edmund Clarence Stedman (ed.), An American Anthology 1787-1899 833 (Boston: Houghton, Mifflin and Company, 1900)] [Stedman notes Winter's publication of two volumes of poetry, The Convent, and Other Poems (1854) and Thistledown (1878) which are not found in OCLC, and not otherwise identified.]
Winter was attending Harvard Law School when Poems, his first book of poetry was published.
[See also: Thos. W. Herringshaw (ed.), Local and National Poets of America 674
(Chicago: American Publishers' Association, 1890); Sidney Perley, The Poets of Essex County, Massachusetts 187-189 (Salem, Massachusetts: Sidney Perley, 1889]
Poetry
William Winter, Poems (Boston: G.W. Briggs, 1855) [online text]
___________, The Queen's Domain; and other poems (Boston: E.O. Libby & Co., 1858)(Boston: E.D. Libby & Co., 1859) [online text]
___________, The Poems of William Winter (Boston: James R. Osgood, 1881)(1880) [online text]
___________, Rienzi and Other Poems (Dublin: W. McGee; London: Simpkin, Marshall, 1884)
___________, Wanderers: The Poems of William Winter (Edinburgh: David Douglas, 1888)(Boston: Ticknor and Company, 1889)(New York: Macmillan, 1892) [online text] (Boston: J. Knight, 1892)(New York: Macmillan and Company, 1893)(New York: Macmillan & Co., 1896)
___________, The Poems of William Winter (New York: Moffat, Yard, 1909) [online text]
Writings
//in progress//
William Winter (ed.), The Poems and Stories of Fitz-James O'Brien (Boston: James R. Osgood and Company, 1881)
___________, Henry Irving (New York: George J. Coombes, 1885)
___________, Brown Heath and Blue Bells Winter (New York: Macmillian, 1896)
___________, The Life of David Belasco (Moffat, 1918)(2 vols.)
___________, Old Friends: Being Literary Recollections of Other Days [online text]
___________, Life and Art of Richard Mansfield: With Selections from His Letters [online text]
___________, Other Days: Being Chronicles and Memories of the Stage [online text]
___________, The Wallet of Time: Containing Personal, Biographical, and Critical ... (2 vols.) [vol. 2: online text]
___________, Shakespeare on the Stage (1911) [online text]
___________, The Jeffersons (1881) [online text]
___________, Life and Art of Joseph Jefferson: Together with Some Account of His Ancestry ... (1893) [online text]
___________, Old Shrines and Ivy (1892) [online text]
___________, Gray Days and Gold (Edinburg: David Douglas, Castle Street, 1891) [online text]
Research Resources
William Winter Letters
Rare Books and Manuscripts, University Libraries
Pennsylvania State University
University Park, Pennsylvania