Charles C. Wise, Jr.



(1913- )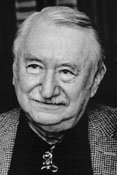 [photograph used with the permission of Charles C. Wise, Jr.]
The following "Biographical Note" appears on the inside back dustjacket of Charles C. Wise, Occasional Pieces: Poems of Charles and Lee Wise (Harrisonburg, Virginia: Printed by The Printing Press, 1998)
Charles C. Wise, Jr., was born in Washington, D.C. on April 1, 1913. He was educated in D.C. Public Schools and received A.B. (cum laude) and J.D. degrees from George Washington University and its Law School. Later he was awarded a Masters in Fiscal Administration from Columbus University. He has been a member of the D.C. and Federal Bars since 1935.

Mr. Wise served as a lawyer and administrator in the Federal Government for 40 years in some dozen departments and agencies. For a change of pace, while still at work daily, he taught Freshman English to evening classes at George Washington and American Universit[y] . . . .

After retirement in 1973, he returned to his roots (his ancestors were original settlers near Bridgewater and founded St. Michael's Church) and since has resided at Cross Keys, . . . [Virginia]. He has taught classes in "American Government" and "Death and Society" at Blue Ridge Community College and has often appeared there as guest lecturer in sessions of "Parapsychology" and "Comparative Religion."
Wise continues to reside in the Shenandoah Valley of Virginia, his retirement now imperiled, he relates to us, by bad health.
Wise received his J.D. from George Washington University in 1936, his A.B. in 1938. He also received a M. Fiscal Admin. degree from Columbus University in 1942 and did graduate study at American University in 1945-1946. He was admitted to the bar in 1935. He served in various civil positions with the government: attorney for the Railroad Retirement Board, 1939-1941; claims attorney with the War Department, 1941-1943; assistant counsel in the Office of General Counsel, Department of the Navy, 1946-1947; counsel with Reconstruction Finance Corporation, 1947-1953; executive secretary of the Subversive Activies Control Board, 1953-1961; security adviser to Deaprtment of Defense, 1962-1973.
Poetry
Charles C. Wise, Jr., Windows on the Passion (Nashville: Abingdon Press, 1967)
_______________, Windows on the Master, Poetic Insights into the Ministry of Jesus (Nashville: Abingdon Press, 1968)
________________, Picture Windows on the Christ (Penn Laird, Virginia: Magian Press, 1979)
_______________, The Holy Families (Penn Laird, Virginia: Magian Press, 1990)
_______________, Occasional Pieces: Poems of Charles and Lee Wise (Harrisonburg, Virginia: Printed by The Printing Press, 1998)
Writings
Charles C. Wise, Jr., Beyond Love: Will Mankind Be Tough Enough to Survive the 21st Century? (Nevada City, California: Blue Dolphin Publishing, ____)
________________, Thus Saith the Lord: The Autobiography of God (Penn Laird, Virginia: Magian Press, 1984)
________________, The Magian Gospel of Brother Yeshu (Penn Laird, Virginia: Magian Press, 1979)
________________, Mind Is It: Meditation, Prayer, Healing, and the Psychic (Penn Laird, Virginia: Magian Press, 1978)
_______________, Ruth and Naomi (McClure Press, 1971)