Bruce McMarion Wright



(1918-2005)
New Jersey & New York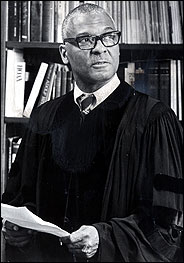 Justice Wright was born in Princeton, New Jersey and reared in Harlem, New York. Wright graduated from Lincoln University, attended Fordham Law School and obtained his law degree from New York Law School. After obtaining his law degree he worked for the law firm, Proskauer Rose, where he represented jazz legends Billie Holiday, Miles Davis, John Coltrane, and Max Roach. From 1970 to 1982, Wright worked as a criminal and civil lawyer. He retired from the bench in 1995.
Justice Wright was made an honorary member of Princeton's 2001 graduating class after having been awarded a scholarship to attend Princeton in 1939, but then being denied admission when the university learned that he was black. (Wright's father is an African-American, his mother is white.) Wright was denied admission to Notre Dame on the same grounds. [Source: Bruce Wright, Black Robes, White Justice (Secaucus, New Jersey: Lyle Stuart Inc., 1987)]
Bruce McMarion Wright Biography
Bruce McMarion Wright
Wikipedia
A Different Judge
The Harvard Crimson
Poetry
Bruce Wright, Repetitions (New York: Third Press International, 1980)
__________, From the Shaken Tower: Poems (Cardiff, Wales: W. Lewis, 1944)
Autobiography
Bruce Wright, Black Justice in a White World: A Memoir (New York: Barricade Books, 1996)
Bruce M. Wright, Black Robes, White Justice (Secaucus, New Jersey: L. Stuart, 1987)
Interview
Les Payne, Unequal Justice: Interview with Judge B.M. Wright, Essence, November 22, 1991, p. 52.
Bibliography
Percy R. Luney, Jr., One Judge's Battle Against the New York City Judicial Establishment, 17 North Carolina Central Law Journal 223-228 (1988)
W. H. Knight, Jr., Book Review (Black Robes, White Justice), 10 National Black Law Journal 366 (1988)
Russell Jones, Book Review (Black Robes, White Justice), 15 Southern University Law Review 419 (1988)