Logan Edwin Bleckley



(1827-1907)
Georgia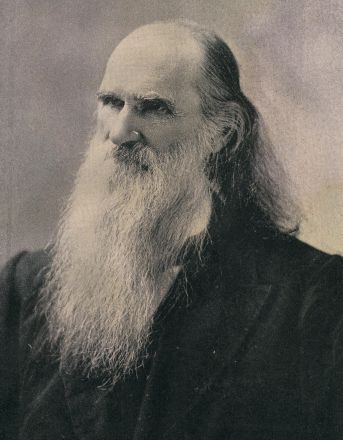 verso photograph
L.E. Bleckley, A Letter to Posterity
4 The Green Bag 49 (1892)
The following biographical sketch of Logan E. Bleckley is found in Mildred Lewis Rutherford, The South in History and Literature, A Handbook of Southern Authors From the Settlement of Jamestown, 1667, to Living Writers 744-745 (Atlanta: Franklin-Turner Company, 1907):
Logan E. Bleckley was born in Rabun county, Georgia, in 1827. He was the son of James and Catherine B. Bleckley, both natives of North Carolina. On his father's side he was descended from the English, and on his mother's side from the German.

When quite a young boy he used to assist his father in copying his law papers, and this gave him a love for law. His education was very meager, only a few months in the year he attended the county schools, and then supplemented this by study in his father's office from books loaned by lawyers from adjoining counties. He was nineteen when he began to practice and his fees for the first two years amounted to only thirty-five or forty-five dollars.

During the War between the States he entered as a Confederate soldier, "taking a course," as he expressed it, "in the noble art of homicide." On account of ill health he was honorably discharged, and offered his services as legal advisor. In 1864 he was made reporter of the Supreme Court; in 1875 Judge of the Supreme Court, and finally Chief Justice. He was twice married; in 1857 to Miss Caroline Haralson, and in 1893 to Miss Chloe Herring. He had three children by his first marriage, and four by the second—all boys except his oldest child, Kate, now Mrs. Culberson, of Atlanta. He was a man of many idiosyncrasies; he wore his hair long because, as he said, Moses wore his long, and it protected, too, the neck; he liked cucumbers and wrote poetry about them, esteeming them the wholesomest of all vegetables; he often waded barefooted after he was Judge of the Supreme Court in the streams of North Georgia, enjoying it as would a boy; he entered the freshman class at the University of Georgia when he was over seventy-three years old to study arithmetical values. His ideas on religion were not orthodox; he believed in what he called the "law of right." He was always seeking for the light and never found it. . . .

Judge Bleckley was regarded by the legal fraternity as one of the greatest lawyers ever born in the State of Georgia.
Logan E. Bleckley was a justice of Georgia state supreme court from 1875 to 1880 and again from 1887 to 1894. He died in Clarkesville, Georgia on March 6, 1907. He is buried at Oakland Cemetery, Atlanta, Georgia.
Logan E. Bleckley
The New Georgia Encyclopedia
Logan E. Bleckley, Former Chief Justice of the Georgia Supreme Court
The Green Bag (1903)
Logan E. Bleckley
Wikipedia
Logan E. Bleckley
The National Cyclopaedia of Biography
Bleckley County, Georgia History
Bleckley County State Historical Marker
Poetry
Logan E. Bleckley, "In the Matter of Rest," 4 Green Bag 17 (1892)(also appearing in 14 Green Bag 336 (1902); 15 Green Bag 558 (1903); 22 Green Bag 605 (1910)
______________, "Oh, Lady, Lady, Lady!" 4 Green Bag 51 (1892)
______________, "The Groom and Bride Each Comes Within," 6 Green Bag 483 (1894)
______________, "Farewell to the Law,"15 Green Bag 558 (1903)
______________, "In the Depths of the Night," 15 Green Bag 559 (1903)
Poetry, Writings, & Bibliography
A Memorial of Logan Edwin Bleckley by the Georgia Bar Association (Macon, Georgia: Georgia Bar Association, printed by J.W. Burke Company, 1909)(Macon, Georgia: Mercer University Press, 1982)
Related Resources
Katharine C. Bleckley, Logan Bleckley's Granddaughter