Irving Browne



(1835-1899)
New York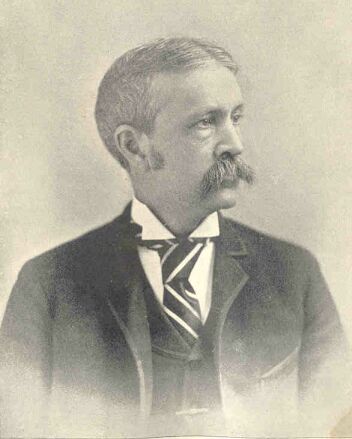 Irving Browne
1 The Green Bag 509 (1889)
[verso]

[also in: Irving Browne, The Albany Law School,
2 Green Bag 153. 165 (1890)]

The following article, apparently by pen of the editor, appeared in The Green Bag in its first volume which appeared in 1889:


The Green Bag


Vol. 1 No. 12 Boston December, 1889
Irving Browne
No name in the legal profession is, probably, better known, both here and abroad, than that of Irving Browne, the editor of the "Albany Law Journal."
Mr. Browne was born at Marshall, Oneida Co., N.Y., in September, 1835. His early education was received in the common schools and academies at Nashua, N.H., and Norwich, Conn., where his father resided during young Browne's boyhood. At the age of fourteen he began to study printing and telegraphy, in both of which he speedily became an expert. He was one of the first operators who habitually read by sound, and in the spring of 1853 was employed in a telegraphy office in Boston. He remained but a short time in this position, however, and later in the same year entered the law office of Theodore Miller at Hudson, N.Y., and began to fit himself for the bar. After three years in the office, Mr. Browne entered the Albany Law School, from which he was graduated in the spring of 1857 and admitted to practice. Shortly after his graduation he formed a partnership in Troy, N.Y., with Rufus M. and Martin I. Townsend, under the firm-name of Townsends & Browne, which continued until 1878, when the firm was dissolved and Mr. Browne continued the practice of the law alone until the fall of 1879.
* * * *
[I]t is as a writer and journalist that Mr. Browne is best known to the profession, and he has at different times made valuable contributions to legal literature, prominent among which are: "Short Studies of Great Lawyers," "Humorous Ph[r]ases of the Law," "Law and Lawyers in Literature," the "Judicial Interpretation of Common Words and Phrases," and the "Law of Domestic Relations." He has also written a sketch of the "Judicial History of New York." His style in writing is concise, clear, and forcible. He strikes vigorously, without fear or favor, and at the same time with perfect honesty and impartiality. As a worker, his industry is marvellous; and the care, grace, and finish with which he completes his literary undertakings are evidence not only of congenital literary taste, but also of cultivation and study.
His tastes and characteristics outside the law are illustrated in his volume of essays entitled "Iconoclasm and Whitewash, and other Papers." The title essay is a study of historical vindications of bad characters and detractions from good ones. That on "Bibliomania" treats of the follies and fancies of book-collectors. Another is on the absurdities of "Shakespearean Criticism," and the last on "Gravestones, aesthetically and ethically considered." Mr. Browne has also published a translation in English verse of Racine's only comedy, "Les Plaideurs," which is a broad satire on lawyers.
From his father, who is a graceful poet, Mr. Browne seems to have inherited considerable poetical taste and skill. He has written a good deal of humorous verse on general subjects, as well as on the law. Some of the latter has from time to time appeared in the pages of the "Green Bag." In addition, he has written much serious verse, showing that he has the humorist's common sadness of fancy.
Upon the death of Isaac Grant Thompson, the founder and editor of the "Albany Law Journal," in 1879, Mr. Browne was called to Albany to fill the editorial chair . . . . In legal journalism his chief aim has always been to reform the laws, to render them cheap, speedy, and certain. He has always been a persistent advocate of general codification, and of the amelioration of the law of evidence and of married women. His journal is something more than a mere reporter of decisions, for its editor has strong and decided opinions which he does not hesitate to express. His secondary aim has been to render the law interesting, and to enliven it by pointing out and commenting on its humorous phases. For these reasons his journal is undoubtedly more read and quoted by lawyers and newspapers than any of its contemporaries. Mr. Browne also succeeded Mr. Thompson in the editorial charge of the "American Reports," which he conducted from the 25th to the 60th and closing volume. He has never had any assistant on the "American Reports," and for several years has done all the editorial work upon the "Law Journal" also, and yet has found time to compile a digest of the New York Court of Appeals Reports, and two volumes of National Bank Cases, and is now engaged in the preparation of an annotated edition of the New York Reports.
Notwithstanding the severe demands made upon his time, Mr. Browne has also been for eight years a lecturer in the Albany Law School in "Domestic Relations" and "Criminal Law."
[Irving Browne, 1 Green Bag 509-510 (1889)]

"Isaac Grant Thompson , the founder and first editor of the "Albany Law Journal," was a native of Rensselaer County. Born in 1840, he was admitted to the bar at Troy in 1865, and in 1870 founded the "Albany Law Journal." Upon his death, in 1879, Irving Browne took the editorship. The latter was a gifted writer, and his historical writings have been of much use in the compilation of the current work. An eminent jurist once wrote of him: "In my judgment he is not second to the most brilliant and effective writers, at home or abroad, in the department of forensic literature." Irving Browne was born in Oneida County, New York, in 1835, and was graduated from Albany Law School in 1857, in which year he went to Troy and entered into partnership with Rufus M. and Martin I. Townsend." [Alden Chester, Courts and Lawyers of New York: A History 1609-1925 BY ALDEN CHESTER Justice of the Supreme Court of New York, 1895-1918 (New York: The American Historical Society, 1925)(vol. 3)]
Irving Browne
Nathaniel Bartlett Sylvester, History of Rensselaer Co., New York
(1880)
Irving Browne
Tarlton Law Library, University of Texas
Irving Browne
Appleton's Encyclopedia
Irving Browne
National Cyclopaedia of American Biography

Poems
At Shakespeare's Grave
(Ignatius Donnelly Loq.)
[Ignatius Donnelly was also a lawyer-poet]
Poetry
The Green Bag
(a legal periodical)
Irving Browne, "Front and Rear," 1 The Green Bag 7 (1889)
___________, "The Bad Singer," 1 The Green Bag 209 (1889)
___________, "The Petroleum Ointment Case," 1 The Green Bag 236 (1889)
___________, "The Balloon and the Garden-Sauce," 1 The Green Bag 281 (1889)
___________, "The Sign of the Ram," 1 The Green Bag 328 (1889)
___________, "The Cow and the Maple-Syrup," 1 The Green Bag 470 (1889)
___________, "The Wicked Shoemaker and Sacrilegious Farmer," 1 The Green Bag 515 (1889)
___________, "Master McKenzie's Goodies," 2 The Green Bag 61 (1890)
___________, "The Deadly Yew," 2 The Green Bag 114 (1889)
___________, "Mrs. Dr. Butcher's Birds," 2 The Green Bag 200 (1889)
___________, "The Ungrateful Husband," 2 The Green Bag 490 (1890)
___________, "The Martyred Mule," 3 The Green Bag 27 (1891)
___________, "Judicial Life," 3 The Green Bag 128 (1891)
___________, "The Front Row," 3 The Green Bag 238 (1891)
___________, "Monkey or Man," 3 The Green Bag 513 (1891)
___________, "The Giant Brakeman," 3 The Green Bag 543 (1891)
___________, "The Siren Turn-Table," 4 The Green Bag 124 (1892)
___________, "The Cup-and-Saucerer," 4 The Green Bag 202 (1892)
___________, "Mother Hubbard's Dog," 4 The Green Bag 279 (1892)
___________, "Listen to My Tale of Woe!" 5 The Green Bag 332 (1893)
___________, "My Friends the Books," 5 The Green Bag 430 (1893)
___________, "My New World," 5 The Green Bag 478 (1893)
___________, "Night Noises," 5 The Green Bag 478 (1895)
___________, "Godiva," 6 The Green Bag 533 (1894)
___________, "Convicted against His Will," 6 The Green Bag 38 (1895)
___________, "A Bed in a Country Inn," 7 The Green Bag 143 (1895)
___________, "Ay! tear the battered emblem down!" 7 The Green Bag 249 (1895)
___________, "When lovely woman wears a bonnet," 7 The Green Bag 305 (1895)
___________, "What news from the vibrating wires," 7 The Green Bag 351 (1895)
___________, "The Public Librarian," 7 The Green Bag 481 (1895)
___________, "At Bayreuth," 8 The Green Bag 33 (1896)
___________, "Ode to Omar," 8 The Green Bag 83 (1896)
___________, "Three Heads," 8 The Green Bag 306 (1896)
___________, "The Short Lobsters Case," 8 The Green Bag 385 (1896)
___________, "The Wheel of Torture," 8 The Green Bag 503 (1896)
___________, "The Treacherous Bedstead," 9 The Green Bag 40 (1897)
___________, "The Volunteer Barber," 9 The Green Bag 134 (1897)
___________, "The Impaired Oysters," 9 The Green Bag 236 (1897)
___________, "How I Go A-Fishing," 9 The Green Bag 319 (1897)
___________, "A Marginal Trespass," 9 The Green Bag 363 (1897)
___________, "The Sign of the Three Balls," 9 The Green Bag 410 (1897)
___________, "The Blasted Blacksmith," 9 The Green Bag 501 (1897)
___________, "The Librarian's Death," 10 The Green Bag 38 (1898)
___________, "The Annual Digests," 10 The Green Bag 356 (1898)
Poetry
Irving Browne, The House of the Heart (Buffalo: The Peter Paul Book Company, 1897) [online text]
Writings
Irving Browne, Legal Recreations: Humorous Phases of the Law (San Francisco: Sumner Whitney & Co., 1876) [online text]
___________, Our Best Society: Being an Adaptation of the Potiphar Papers, in Four Acts (Troy, New York: [s.n.], 1868) [online text] (New York: S. French & Son, 1876)(comedy)
___________, Humorous Phases of the Law (San Francisco: Sumner Whitney & Co., 1876) [online text] [vol. 1: Legal Recreations]
___________, Short Studies of Great Lawyers (Albany, New York: Albany Law Journal, 1878)
___________, The Judicial Interpretation of Common Words and Phrases (San Francisco: Sumner, Whitney & Co., 1883)(William S. Hein & Co., reprint, 1998)
___________, Law and Lawyers in Literature (Boston: Soule and Bugbee, 1883)(1882) [online text]
___________, Elements of the Law of Domestic Relations (Boston: Soule & Bugbee, 1883)(Boston Book Co., 2nd ed., 1890) [online text]
___________, Iconoclasm and Whitewash, and Other Papers (New York: John Osborne Wright, 1885) [online text]
___________, Elements of the Law of Domestic Relations and of Employer and Employed (Boston: Boston Book Company, 1890)
___________, The Elements of Criminal Law: Principles, Pleading, and Procedure (Boston: Boston Book Company, 1892)
___________, Treaties on the Admissibility of Parole Evidence (L.K. Strouse and Company, 1893) [online text]
___________, Elements of the Law of Bailments and Common Carriers (Albany, New York: Banks & Co., 1896) [online text]
___________, In The Track of the Bookworm: Thoughts, Fancies, and Gentle Gibes on Collecting and Collectors by One of Them (East Aurora, New York: Roycroft, 1897) [online text]
___________, Ballads of a Book-Worm (East Aurora, New York: Roycrofters, 1899)
Law Poetry Anthologies
Irving Browne, "A Psalm of Law" and "To Caliph Omar," in Ina Russelle Warren (ed.), The Lawyer's Alcove: Poems by the Lawyer, for the Lawyer and about the Lawyer 170-171, 196-197 (New York: Doubleday, Page & Company, 1900)(Buffalo, New York: William S. Hein & Co., 1990)


Library Catalogue
Irving Browne, Catalogue of the unique library formed by Irving Browne, esq., of Troy, N.Y., containing the most extensive collection of extra illustrated works ever offered by auction in this country. And specially rich in dramatic literature, Americana and works relating to the fine arts ([New York, 1878]) [online text]
Research Resources
Isaac Grant Thompson
Browne's predecessor at the Albany Law Journal