James Maurice Thompson



(1844-1901)
Indiana & Georgia
Civil engineer, surveyor, naturalist, geologist, lawyer,
politician, novelist, poet, sportsman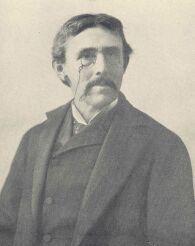 Benjamin S. Parker & Enos B. Heiney, Poets and Poetry of Indiana: A Representative Collection of the Poetry of Indiana During the First Hundred Years of its History as Territory and State, 1800 to 1900 (Chicago: Silver, Burdett and Company, 1900)

James Maurice Thompson, the son of a Baptist minister, was born in Fairfield, Indiana in 1844. Yhe Thompson family moved to north Georgia when Thompson was still a young boy. He was educated by tutors in the classical languages, literature, French and mathematics which provided the basis for his later work as a civil engineer. During the Civil War, Thompson, and his younger brother (by two years), Will Henry Thompson, served in the Confederate Army. After the war, Thompson took up residence in Calhoun, Georgia, studied surveying and engineering and took up the study of law. He lived in Calhoun two years and began his career as a writer there. In 1867, he began a botanical and ornithological survey of Lake Okeechobee in Florida (for reasons we have not yet determined).
After conducting this and other surveys, Thompson and his brother, headed north and ended up in Crawfordsville, Indiana, a town where they knew no one. Maurice found work as an engineer on a new railroad being built and the Thompson brothers married sisters. In 1871, Thompson moved from engineering work to law and opened an office with his brother. Now engaged in the practice of law, Thompson again took up writing, and in 1873 the Atlantic Monthly published one of his articles, after which he undertook a series of articles on archery which is acclaimed today in archery circles as the first effort to popularize the sport.
Thompson's first book appeared in 1875 and over the ensuing years he wrote in different genres, including novels and poetry. He was elected to the Indiana State Legislature in 1879.
Crawfordsville was also the adopted home of another lawyer, soldier, author, and sometimes poet, Lew Wallace.
[The biographical sketch is drawn from R.E. Banta, Indiana Authors and Their Books 1816-1916 317-319 (Crawfordsville, Indiana: Wabash College, 1949)]
[Thompson was born on September 9, 1844 and spent his early life in Kentucky and Georgia. See Edmund Clarence Stedman (ed.), An American Anthology 1787-1899 826 (Boston: Houghton, Mifflin and Company, 1900)]
Maurice Thompson
Appleton's Cyclopedia of American Biography
(New York: D. Appleton and Company, 1887-1889)(James Grant Wilson & John Fiske eds.)(6 vols.)
Maurice Thompson
Wikipedia
Maurice Thompson (1844-1901)
Virginia B. Ball Center for Creative Inquiry, Muncie, Indiana.
James Maurice Thompson: A Talented Hoosier
Maurice Thompson, the Early Years
Maurice Thompson, the Sylvan Years
Maurice Thompson, the War Years
Poems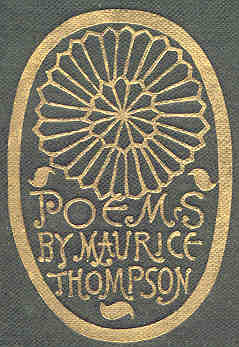 [At the Window] [Atalanta] [Diana] [A Dream of Fair Weather] [A Flight Shot] [The Fawn] [The Lion's Cub] [Before Dawn] [The Kingfisher] [The Bluebird] [An Early Bluebird] [November] [The Sentinel] [Beyond the Limit] [Written on a Fly-Leaf of Theocritus] [The Ballad of Chickamauga] [A Creole Slave-Song - (Ah, lo zo-zo chan' dan' branche)] [A Prophecy (From "Lincoln's Grave")]
Poetry
Maurice Thompson, Songs of Fair Weather (Boston: James R. Osgood and Company, 1883) [online text]
_______________, Poems (Boston: Houghton, Mifflin and Company, 1892) [online text] [online text]
Writings
Maurice Thompson, Hoosier Mosaics (New York: E. J. Hale & Son, 1875) [online text] (New York: Garrett Press, 1969)
Maurice Thompson & Will H. Thompson, The Witchery of Archery (1879)(Pinehurst, North Carolina: Archers Company, 1928) [historical significance of The Witchery of Archery]
_______________________________, How to Train in Archery (1879)(London: Tabard Press, facsimile, 1970)
_______________, A Tallahassee Girl (Boston: J. R. Osgood and Company, 1882) [online text] (Boston: Houghton and Mifflin, 1909) [online text]
_______________, Songs of Fair Weather (Boston: J.R. Osgood, 1883)
_______________, His Second Campaign (Boston: J. R. Osgood and Company, 1883) [online text]
_______________, At Love's Extremes (New York: Cassell & Company, 1885) [online text]
_______________, A Red-Headed Family (New York: J. B. Alden, 1885)
_______________, By-Ways and Bird Notes (New York: John Alden, 1885) [online text]
_______________, A Banker of Bankersville, a Novel (New York Cassell & Company, 1886)
_______________ (ed.), The Boy's Book of Sports and Outdoor Life (New York: Century Co., 1886) [online text]
_______________, Secrets, in Bird-songs and Books (New York: J. B. Alden, 1887)
_______________, A Fortnight of Folly (New York: J.B. Alden, 1888)
_______________, Sylvan Secrets (New York: John Berry and Co., 1888)
_______________, The Story of Louisiana (Boston: D. Lothrop Company, 1888) [online text]
_______________, The Ethics of Literary Art (Hartford, Connecticut: Hartford Seminary Press, 1893)
_______________, Lincoln's Grave (Cambridge and Chicago: Stone and Kimball, 1894) [online text]
_______________, The King of Honey Island (New York: G. W. Dillingham, 1896)

_______________, Stories of Indiana (New York: American Book Company, 1898) [online text]
_______________, Stories of the Cherokee Hills (Boston: Houghton, Mifflin and Company, 1898)(Books for Libraries Press, 1970)
_______________, My Winter Garden: A Nature-lover Under Southern Skies (New York: Century Company, 1900) [online text]
_______________, Alice of Old Vincennes (Indianapolis: Bowen-Merrill Company, 1900)(New York: Grosset & Dunlap 1900)(New York: Grosset & Dunlap, 1908) [online text] (Vincennes, Indiana: Vincennes University Press, 1961)
_______________, A Banker of Bankersville (New York: Street & Smith, 1900)
_______________, Milly: At Love's Extremes—A Romance of the Southland (New York: New Amsterdam Book Co., 1901)
_______________, Rosalynde's Lovers (Indianapolis: Bowen-Merrill Company, 1901)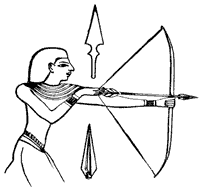 Egyptian archer with arrow-heads and stone-tipped reed arrow.

[Charles Morris, Winston's Cumulative Loose-leaf Encyclopedia (Philadelphia: The John C. Winston Company, 1919)] [Used with permission of the Florida Center for Instructional Technology]
Writings online
The Defense by Resurrection
(1897)
Ben and Judas
(1889)
Bow Shooting
(1877)
Links to Maurice Thompson Writings

[Links Cont'd] [Links Cont'd] [Links Cont'd]
Bibliography
Otis B. Wheeler, The Literary Career of Maurice Thompson (Baton Rouge: Louisiana State University Press, 1965)
George A. Schumacher, Maurice Thompson, Archer and Author (New York: Vantage Press, 1968)
Dorothy Ritter Russo & Thelma Lois Sullivan, Bibliographical Studies of Seven Authors of Crawfordsville, Indiana: Lew and Susan Wallace, Maurice and Will Thompson, Mary Hannah and Caroline Virginia Krout, and Meredith Nicholson (Indianapolis: Indiana Historical Society, 1952)(Chicago: Lakeside Press, 1952)
William Malone Baskervill, Southern Writers: Biographical and Critical Studies—Maurice Thompson (Nashville, 1896)
Bibliography: Articles, Essays, & Biographical Sketches
"Thompson, James Maurice: 1844-1901," in R. E. Banta, Indiana Authors and Their Books 1816-1916: Biographical Sketches of Authors Who Published During the First Century of Indiana Statehood with Lists of Their Books 317-319 (Crawfordsville, Indiana: Wabash College, 1949)
Otis B. Wheeler, "Maurice Thompson," in Louis D. Rubin, Jr. (ed.), A Bibliographical Guide to the Study of Southern Literature 307 (Baton Rouge, Louisiana State University Press, 1969)
Research Resources
James Maurice Thompson Manuscripts
[pt. II]
Lilly Library
Indiana University
Bloomington, Indiana
Maurice Thompson Papers
Emory University General Libraries
Atlanta, Georgia