Royall Tyler



(1757-1826)
Massachusetts & Vermont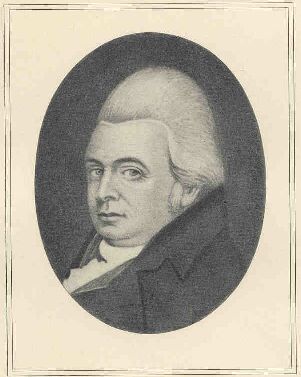 Russell W. Taft, Royall Tyler, 20 Green Bag 1-5 (1908)
Royall Tyler was born in 1757 in the Faneuil Hall area in Boston, Massachusetts. He graduated from Harvard College in 1776 and received a degree from Yale the same year. He studied law with John Adams and was admitted to the Massachusetts Bar in 1780. He took up the practice of law in Portland, Maine, and later in Quincy, Massachusetts. Tyler served in the militia in 1778 and in 1787 became an aide to General Benjamin Lincoln during Shays' Rebellion. It was during this military campaign that Tyler became acquainted with Vermont where he would eventually settle.
Tyler established a law practice in Guilford, Vermont, in 1791 and served as state's attorney for Windham County, Vermont, 1794-1801; justice on the Vermont Supreme Court, 1801-1807; and Chief Justice of the state's highest court from 1807 to 1813. He taught law at the University of Vermont from 1811 to 1814.
Tyler's literary fame lies in his work as an early American playwright, and author of the first performed American comedy, The Contrast (1787), a satire about fashion-conscious New Yorkers. He also wrote other plays, and a fictitious memoir, the Algerine Captive, which was published in 1797. He wrote poems and essays for the New Hampshire Journal (as did another lawyer poet, Joseph Dennie).
Tyler died August 26, 1826, in Brattleboro, Vermont after suffering for some years with cancer of the face.
[Source: Evert A. & George L. Duyckinck, 1 The Cyclopaedia of American Literature 432-434 (Philadelphia: William Rutter & Co., 1880)(2 vols. )]
Royall Tyler
Wikipedia
Royall Tyler
a biographical portrait written for a legal audience in 1908
Royall Tyler
Perspectives in American Literature
Royall Tyler
Early American Fiction
University of Virginia
Royall Tyler
Evert A. Duyckinck, Cyclopaedia of American Literature
(New York: C. Scribner, 1856)
Judge Royall
Thomas St. John, Nathaniel Hawthorne: Studies in The House of the Seven Gables

American Drama: Royall Tyler
Poems
My Mistresses | On a Ruined House in a Romantic Country
The Widower | Original Epitaph on a Drunkard
Poetry
Royall Tyler, The Verse of Royall Tyler (Charlottesville: University Press of Virginia, 1968)(Marius B. Péladeau ed.)
Poetry: Periodicals
Royall Tyler, Love and Liberty, 20 Green Bag 5 (1908)
Drama
Royall Tyler, The Contrast, a Comedy in Five Acts (New York: AMS Press, 1970)(New York: Feedback Theatrebooks & Prospero Press, 1996) [online text] [online text] [online text]
_________, Four Plays by Royall Tyler (Princeton, New Jersey: Princeton University Press, 1941)(Arthur Wallace Peach & George Floyd Newbrough eds.)
Writings
Royall Tyler, The Spirit of the Farmer's Museum and Lay Preacher's Gazette (Walpole, New Hampshire, 1801)
_________, The Yankey in London. Vol. 1 Being the First Part of a Series of Letters (New York: Issac Riley, 1809) [vol. 1: online text]
Royall Tyler, The Prose of Royall Tyler (Montpelier: Vermont Historical Society, 1972)
Bibliography
Perspectives in American Literature: Selected Bibliography
Ada Lou Carson & Herbert L. Carson, Royall Tyler (Boston: Twayne Publishers, 1979)
Ada Lou Carson, "Thomas Pickman Tyler's 'Memoirs of Royall Tyler': An Annotated Edition," Ph.D. dissertation, University of Minnesota, 1985.
G. Thomas Tanselle, Royall Tyler (Cambridge: Harvard University Press, 1967)
Bibliography: Articles
Gary A. Richardson, "Nationalizing the American Stage: The Drama of Royall Tyler and William Dunlap as Post-Colonial Phenomena," in A. Robert Lee & W.M. Verhoeven (eds.), Making America / Making American Literature 221-248 (Amsterdam-Atlanta, Georgia: Rodopi, 1996)
Russell W. Taft, Royall Tyler, 20 (1) The Green Bag 1-5 (1908) [online text]
Teaching Tyler's Work
American Drama
Texas Tech University

American Literature
University of Kansas Continuing Education
Research Resources
Royall Tyler Collection
Vermont Historical Society Library
Burlington, Vermont

Source: Russell W. Taft, Royall Tyler, 20 Green Bag 1 (1908)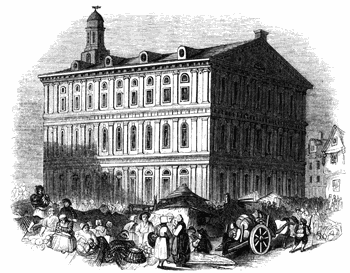 "Faneuil Hall has been denominated 'the cradle of American liberty,' having been the popular gathering-place of the Sons of Liberty during the incipient stages of the Revolution. It was erected in 1742, at the sole expense of Peter Faneuil, Esq., of Boston, and by him generously given to the town-the basement for a market, with a spacious and most beautiful hall, and other convenient rooms above, for public meetings of the citizens. It was burned in 1761, nothing but the brick walls remaining. The town immediately ordered it to be rebuilt. Mr. Faneuil had then been dead several years. The engraving shows it as it appeared during the Revolution. It was enlarged in 1805, by the addition of another story, and an increase of forty feet in its width. The hall is about eighty feet square, and contains some fine paintings of distinguished men. The lower part is no longer used as a market. From the cupola is obtained a fine view of the city and harbor. The original vane still turns upon the pinnacle. It is in the form of a huge grasshopper, an emblem of devouring, and significant of the original occupation of the basement story." Benson J. Lossing, The Pictorial Field-Book of the Revolution (New York: Harper & Brothers, 1851) [Faneuil Hall image used with permission of the Florida Center for Instructional Technology]