In preparing a paper for Mr. Brown's seminar, I became acquainted with the family history and early life of Lyon G. Tyler. He was born on August 24, 1853 at Sherwood Forest, a 1,600-acre plantation in Charles City County, about 18 miles west of the College on Virginia Route 5. The fifth child of President John Tyler and his second wife Julia Gardiner, he had a storybook childhood. At the time of his birth, his father was eight years out of the presidency, and his mother was, in her own right, one of nineteenth century America's notable women. Both parents were kind and loving people who were attentive to their children.
Lyon Tyler's experience in his formative years offers insight into the type of person he would become as an adult. The most important factors were his experience in growing up in the highly attractive environment of Sherwood Forest plantation and his membership in a family that included generations of high achievers. These two factors strongly colored his outlook and his life work.
When Lyon was born in 1853, the Southern plantation had nearly run its course. However, Sherwood Forest was a stereotypical example of the Southern plantation at its best. The well-furnished 305-foot-long manor house with its 50-acre rose garden provided a rich setting for family life. Treatment of the approximately 70 slaves who operated the estate was, by contemporary Southern standards, regarded as best of the best. The wheat and corn farming operation was prosperous enough to support a lifestyle that included fine clothes, frequent entertaining, travel to the best resorts, and a substantial beach home in Hampton, Virginia.
During Lyon Tyler's childhood, family history was frequently discussed, and the history of his family reads like an epic novel. On both sides, the family included members who lived in manor houses, held high political office, and made accomplishments that entered the history books. Family background is significant because, to Lyon Tyler, family was both a matter of immense pride and a constant goad to make achievements in his own life equal to theirs.
On his mother's side, anchor members of the family included Lion Gardiner, the first to arrive in America (1635), and Lachlan McLachlan, a Scottish highland chieftain. Lion Gardiner, a professional soldier, came from England under contract to help protect Connecticut from the Indians. McLachlan was the leading highland chieftain supporting Bonnie Prince Charlie, the Stuart claimant to the English throne, in the battle of Culloden (1745). By the mid nineteenth century, the Gardiner family was wealthy, and Lyon's mother Julia Gardiner was a nationally known beauty with a persona similar to that of Jackie Kennedy.
On his father's side, the family arrived in Virginia before 1653 and established a position as landowners and civil servants. The family achieved a level of prominence with Lyon's grandfather, who is believed to have been a roommate of Thomas Jefferson at the College of William and Mary, and who was twice governor and a federal judge. His father was governor, congressman, senator, U.S. President, and long-term Rector of the William and Mary College board.
The family influence extending from grandfather Judge Tyler to father President Tyler to son Lyon Tyler is apparent. As biographer Robert Seager explains, John Tyler "absorbed in toto the political, social, and economic views of his distinguished father," and Lyon Tyler would in turn totally absorb the views of his father. One of the views passed from grandfather to father to son was a strong tendency to be a rebel. Judge Tyler was a rebel in the Revolution and would remain a lifelong rebel in spirit. While president of the United States, John Tyler became a rebel against his own party and would later become a Confederate rebel. Until his dying day, Lyon G. Tyler would retain a nostalgic commitment to some of the social and political positions of the Confederate rebels.
If Lyon G. Tyler's first eight or nine years were privileged and happy, the next decade of his life was full of uncertainty. In 1862 his father died, and Civil War battles near Sherwood Forest forced Julia Gardiner to move Lyon and the younger children to her mother's home on Staten Island. There he would stay until returning to Sherwood Forest after the end of the Civil War in 1865. At that time, circumstances for the family had changed drastically. Although the house was largely undamaged, the furniture, outbuildings, and implements were gone, and the productive capacity of the estate was reduced to a fraction of its prewar level. Since the house at Sherwood Forest was unlivable, the family returned to Staten Island, where Lyon completed his secondary education at a private academy between 1865 and 1870.
In 1870 Lyon Tyler entered the University of Virginia. There he had a brilliant academic career and won the highest prize offered by his literary society in oratory. He completed the B.A. degree in 1874, the M.A. degree in 1875, and he studied law from 1875 - 1876.
During the late 1870s, he got a part-time job as a professor of literature at the College of William and Mary. While at the College, he is known to have accepted at least one law case defending an accused murderer. Local attorneys thought his final summation was the finest piece of oratory they had heard from a young lawyer. He was married in 1878, but more about that later. Declining fortunes at the College brought the William and Mary job to an end, and he accepted a position as principal of an exclusive Memphis, Tennessee high school in 1878. Memphis society did not agree with him because, in his opinion, the people did not respect tradition and were overly dedicated to making money. Consequently, he moved to Richmond in 1882, at the urging of his mother to write the Letters and Times of the Tylers, and there he practiced law but spent most of his time writing history.
When I finished the paper for the Richard Brown seminar in May of 1970, research on Lyon G. Tyler was put on hold while completing the class work for the doctorate degree. The next four years would be spent serving as the graduate assistant to Professor Jim McCord, teaching community college courses at night, waiting tables at various fine dining establishments, and completing the course work. Although the doctorate of history program was new, it was a quality program, sufficiently difficult that the students could never mentally relax, and the faculty had ambitions the program would one day achieve standards equal to schools such as Harvard and Duke.
The history department was staffed with first-rate professional historians. Most individuals focused on teaching, although almost everyone published research, and some had lengthy bibliographies. Nearly all held doctorates from first-rate institutions including Harvard. One of the more memorable among them was Ludwell Johnson, a Civil War historian who held a position of respect and authority based on his charm, force of character, and elegant writing. Boyd Coyner, a historian of the ante-bellum South, was probably the best lecturer I had during my college career. One of the department's two female members, Cam Walker was widely respected for her dedication to women's issues. Ed Crapol, the only left-leaning member of the department, was noted for his impassioned lectures on diplomatic history. These and the other professors maintained high standards of historical scholarship.
After a four-year hiatus while completing the coursework, I returned to my research on Dr. Tyler in 1974. Richard B. Sherman was assigned to be my advisor. Mr. Sherman was a solid historian of the United States during the progressive era. He was a steady and reliable person who was noted by his colleagues for his ability as a graduate adviser. Because of his background as a Boston native and a Harvard graduate, Mr. Sherman was in a position to provide a constructive Northern view on the career of the Old South exemplar Lyon Tyler.
Starting in 1974, I became a regular in the Special Collections Division at Swem Library where the Tyler Papers were housed. The space there was finished and decorated in a manner fitting for a Fortune 500 board room suite. There was solid black walnut paneling with leather bound rare books filling wall to wall book cases. Researchers worked at fine mahogany tables by Kittinger under brass chandeliers.
I regret that, my work while in the history department provides a model of how not to prepare a dissertation. A fly sitting on the wall would certainly have thought, "That guy is not going to complete a dissertation this hundred years." For starters, the outline was not followed. There was a lack of focus. And there were plenty of distractions from my topic, which was the College during the Tyler administration.
One of the distractions was the papers of Julia Gardiner, Lyon G. Tyler's mother. Although her national career as mistress of the White House was done before she was 26, she subsequently lived on a large scale and demonstrated some heroic qualities in her private life. As a result of her charm and stature, she was one of those rare and envied people who receive social adulation all of their life. She did a superb job as hostess helping a former president entertain a constant stream of visitors. She was an outstanding mother to her seven children. As a widow, she managed to carry her children through times when funds fell far short of needs and get them educated in the best universities. And her papers are full of letters she wrote advancing her children's prospects with job patrons. It is logical to suppose that Lyon G. Tyler would later support women's causes in part due to the example of womanhood he saw in Julia Gardiner.
There was an unexpected side effect of my research on Julia Gardiner. One afternoon the archivist brought in and introduced to me Ms. Payne Tyler, the daughter-in-law of Lyon G. Tyler and wife of his son, Harrison Ruffin Tyler. Harrison and Payne had recently purchased Sherwood Forest from other family members and were restoring the house. I was able to show Mrs. Tyler where she could find letters in which Julia Gardiner made extensive comment on the original architectural details, decoration, and furnishings.
It was beside the point that Payne Tyler was attractive and from a prominent family in South Carolina. More important, she was one of the most charming persons I have encountered, in part because of the sincere regard she expresses for other people. She invited me to come to Sherwood Forest for a visit. I went and was surprised to see that the home where Lyon G. Tyler had spent his youth was so dilapidated that a portion of the rear wall had fallen off its foundation. Mrs. Tyler was personally superintending the restoration work. During several visits, I was able to see the place reassume a pristine condition, and it became possible to imagine what it was like when Lyon G. Tyler was playing with slave children in the yard.
A second distraction was Lyon G. Tyler's love letters to Annie B. Tucker. There are several dozen letters from him to her between 1877 and 1878, but her letters to him are lost. She was the daughter of St. George Tucker, a Lt. Col. who arose from his sick bed to lead his cavalry unit at the Battle of Malvern Hill (1862) and died soon afterward from exposure.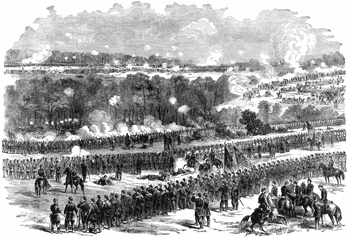 Frank Leslie's Illustrated Famous Leaders and Battle Scenes of the Civil War
(New York: Mrs. Frank Leslie, 1896)
[ "Battle of Malvern Hill, near Turkey Bend, James River, Va., fought Tuesday, July 1st, 1862. The battle of Malvern Hill commenced with the advance of a large body of Confederates, extending quite across the country, with cavalry on each flank. The Federals at once jumped up wearily, and waited their appraoch, while all the signal officers, on their several stations, waved their cabalistic muslin. The Federal column was formed with General Couch, of General Keyes's corps, on the extreme left; Franklin and Heintzelman took up the centre, and on the right were the remnants of Porter and Sumner. Burns's brigade, being ordered to charge, advanced with the sixty-ninth Pennsylvania Regiment (Irish), Colonel Owen, and being gallantly seconded by Dana's, Meagher's and French's brigades, they dashed within fifty yards of the enemy and opened a splendid fire of musketry. The left of the line was now advanced, and the troops of General Couch really behaved wonderfully, facing the enemy wherever he appeared, and pouring volleys into him all the time. After fighting two hours, with a loss of about 400, the night fell, and having moved across Turkey Island Creek, they broke up the bridge, and soon the whole army closed up at and near Harrison's Bar, twenty-seven miles from Richmond." [Frank Leslie's Illustrated Famous Leaders and Battle Scenes of the Civil War
(New York: Mrs. Frank Leslie, 1896)]

Lyon G. Tyler met his future wife, Annie B. Tucker, at a Sunday evening service at her Presbyterian Church (he was an Episcopalian) and was immediately smitten. His letters to her show he was fighting an uphill battle, as she was apparently standoffish and not very interested for a period of time. Through his persistence, however, he won her love by slow degrees.
When I was reviewing those letters, they were especially fascinating because of what was happening in my own life at the time. I had met a girl in a history class who was, like Annie B. Tucker, very captivating but not very interested. Let's call her "Belinda" (not her real name). At the time, there was a top-pop song that expressed my feelings with the refrain, "All I need is the air that I breathe, just to love you." Annie B. Tucker and Belinda were alike in both being extremely attractive, very intelligent, and independent minded. Knowing that Lyon G. Tyler overcame Annie B. Tucker's resistance and married her in 1878, I reasoned that those letters might offer insight into how I could similarly succeed with Belinda. My hope to find a magic key in Lyon Tyler's letters was disappointed. However, by the time my research was completed, Belinda had changed her mind and even began typing my dissertation. She jokingly said the work should be titled, "Gone with the College," as I was attempting to tell the story in an epic manner. That Belinda would not work out in the long run does not obscure that fact that Lyon G. Tyler had a fairy tale marriage with Annie B. Tucker. By all reports, he would remain transparently enthralled by her through 41 years of married life.
A third distraction was Dr. Tyler's work as a historian. Between the time of his first book in 1883 and his death in 1935, Lyon G. Tyler became the most prolific historian ever produced by Virginia. He additionally became one of the most widely known Southern historians in the United States at the time. During his 52 years as an active historian, he wrote many monographs and countless articles, as well as editing two large multi-volume biographical encyclopedias and publishing two long-running quarterly journals. In addition, he became the primary source for questions on Virginia history and genealogy as well as a focal point in efforts to preserve historical buildings and sites. For example, he encouraged Army engineer Samuel Young to prepare a site survey of nearby Jamestown, and this work later became the starting point in the restoration of Jamestown. Further, he actively supported historical organizations throughout his career, becoming a charter member of the American Historical Association (AHA) in 1884, and assisting the Association for the Preservation of Virginia Antiquities (APVA) in several projects.
Much of Tyler's voluminous work on Virginia history is still used today. Throughout his career as a historian, however, he maintained some controversial positions. For example, he fought and refought the battles of his father's administration, maintaining the political, moral, and intellectual superiority of John Tyler over his opponents. In Dr. Tyler's interpretation, the significant factor was John Tyler's consistent support for high-minded principles and not the gridlock that developed because of his principles. Additionally, he engaged in disputes with Northern historians who he thought had slighted the South.
Work on my dissertation was progressing in a far from efficient manner when I landed a full-time job in 1977. This job sounded the death knell to the work. The deadline came in the fall of 1978, and I had not produced an acceptable draft. Not only did I fail, but within one month's time, I also lost my job and went to the hospital with a collapsed lung. After this triple knockdown, it took about 30 days to find another route to the goal.
Since my work was a history of education piece, I decided to go the School of Education to finish it. My advisor was going to be Paul Unger, who specialized in the history and philosophy of education. In spite of Dr. Unger's charming and agreeable personality, I could not help but be terrified that things would not work out, due to an incident that transpired some years before. I had borrowed an electronic keyboard tuner that previously belonged to Dr. Unger's son Mel, and I inadvertently got in the middle of a dispute between Mel and a man I will call "Vick" (not his real name) over the ownership of the tuner. I later heard that "Vick" ended the dispute by throwing paint remover on Mel's car one night, and I had fears that Dr. Unger might in some manner blame me. However, my fears of entering a doctoral horror story were groundless. Work with Dr. Unger started, continued, and would end in a productive manner.
After three or four courses on the history and philosophy of education, the story of Dr. Tyler's administration came into focus, and the writing began to flow. The material was so exciting that I would sometimes work through the night and go to bed the next evening.
The story of Dr. Tyler's contribution to the College begins in December 1886 in Richmond at the Virginia legislature. The College had been closed for five years and appeared to be near extinction. The William and Mary board hoped to obtain a $10,000 appropriation that would revive the school as a teacher training institution. The board asked freshman Richmond delegate Lyon Tyler to take charge of getting the College bill through the House. That assignment was critical because, although the Senate favored the bill, opposition in the House was fierce.
When my research on the College appropriation was done, I went to Richmond to get a feel for the setting where the bill was argued in the old House chamber. I arrived early one morning and, after obtaining permission from the Clerk of the House, sat down at a member desk on the floor, and began to write. In my mind's eye, I could see the scene unfold there before me. I could imagine the handsome young delegate, Lyon G. Tyler, eloquently arguing the College's case. I could see Speaker Richard Cardwell stand down from the high pedimented old chair to oppose the bill, holding up the journals of the two previous sessions to show where the House had rejected the College appropriation. I could hear the cheer that rang out from the floor when the bill was finally successful after three years of hard work.
When Lyon G. Tyler was elected president, it was apparent he was facing a large challenge. The material assets of the school had been reduced to five timeworn buildings, a $20,000 endowment, and a small library. State funding was not secure, because the legislature could escape through the sunset clause by simply not renewing the appropriation. By adopting the teacher-training mission, additionally, the College was making a radical change in curriculum that might lower the prestige of the institution.
During the 1890s, Tyler exceeded expectations by making the College into a distinctive institution that could exert a strong affect on the lives of its students. Student records such as the College annual and literary journal reveal a vibrant quality of student life and a high level of esprit. By and large, the students shared a sense of high purpose and found the educational setting to be exciting. Glowing reports from the State Department of Education indicate the College was efficient in training teachers and secondary school principals. Reports from the Medical College of Virginia additionally show that the school was producing excellent results in premedical training.
One might wonder how a small institution with weak admissions standards and a low budget could provide a distinctive quality of education. I think there are three reasons. First, Tyler hired an extremely capable faculty including members who not only had strong academic credentials but also gifts of personality and character. Second, Tyler's family name, work ethic, and Old South nostalgia gave him a persona highly responsive to the needs of the institution and its students. Third, Tyler succeeded in shaping the history of the College into a heroic saga aimed at inspiring superior performance by the students.
The illustrious achievements of the College in educating a generation of Revolutionary patriots and other notables had long been recounted in College publications and occasional presentations. However, it was Lyon Tyler who first shaped the history of College exploits into a fully developed saga for the conscious purpose of inspiring the students to reach for distinguished careers. In numerous articles and books, Tyler chronicled the pioneering achievements of the school. These achievements included a long list of "firsts," such as William and Mary was the first school to use the elective system, the first school to employ the honor system, and the first school to found a Greek letter fraternity. William and Mary achievements also included educating scores of eminent leaders before, during, and after the time of College alumnus Thomas Jefferson. Tyler's writings on the College helped to form a saga of mythical proportions. It is believed this saga succeeded in addressing the aspirations of the students in a way that helped foster superior performance in their careers. The question as to whether this is true, and if so to what extent, would be a challenging subject for further research.
Under Tyler's leadership, the College was in the forefront of progressive curricular reform. By adopting the educational mission of providing teacher training in 1888, William and Mary moved into the era of professional training ten or fifteen years before most other Virginia institutions. Due to limited budget, however, Tyler was unable to match the pace of other Virginia schools in introducing scientific coursework and raising admission standards.
Although Tyler led in modernizing the curriculum, he would remain in some respects an old time college president, for example receiving the families at the president's house and knowing the students personally. The image is of him walking across campus with ramrod erect posture a step or two ahead of his wife. We know he stood five feet eleven inches, weighed 165, and wore a size 6 1/8 hat, based on his application for a robe to receive one of four honorary doctorates. His tendency to be distracted was famous. One of numerous anecdotes has him walking down the street deeply immersed in thought one night, when he stumbled over a cow and was heard to exclaim, "Excuse me, ma'am."
The critical area of finance was an uphill battle for Tyler throughout his administration. Especially during the first eighteen years, nearly every appropriation came only after he fought a battle royale in Richmond. Although appropriations came easier after he got the school transferred to the state in 1906, they always lagged behind the needs of the institution. As Tyler recalled in his reminiscences, some legislators joked about Williamsburg being a deserted village where moss grows on the houses while he was practically reduced to tears by the desperate needs of the College. He sought to obtain funds through commission agents and from foundations, but these attempts were only marginally successful.
Although the board gave Tyler high marks for his "literary work," as they called his historical writing, they shared the view that he was weak as a business manager. The solution was that, long-term board member and Rector Robert M. Hughes would handle business affairs during most of Tyler's administration. Hughes was a micro manager, even controlling the menu at the College boarding house and issuing instructions on which trees to cut down. In 1905, Tyler made a daring attempt to install a friend as Rector. However, when Hughes was elected to the office, Tyler wrote to another board member, " . . . we must all meet and carry him on our shoulders if necessary just for the sake of the old college."
Near the end of his administration, Tyler led in opening William and Mary to women. Why a person with otherwise conservative views would have advanced liberal views on women's rights is a subject for further investigation. Tyler became active in groups supporting both women's education and women's suffrage early in the twentieth century. When a campaign to open the University of Virginia to women foundered in 1917, he was able to rechannel the momentum into a bill that opened William and Mary to women in 1918.
During his 31-year administration, Tyler led in making significant improvements in the College. For example, he built or renovated 14 buildings; increased budget from $12,000 - $154,000; and increased the student body from a low of about 100 to a high of 250. More important, he rekindled the flame, helping to restore the spirit of the institution. It was due in large part to his courage and determination that William and Mary got a state appropriation in 1888 and continued to win appropriations for the next eighteen years until the College became a full state school. Without his leadership, William and Mary might likely have joined the hundreds of failed colleges that litter the landscape of American higher education.
Upon his retirement in 1919, the Board recognized Tyler's achievements by making him President Emeritus and providing him a residence in Williamsburg. By this time, his two daughters and one son had established independent careers, leaving himself and his wife Annie at home. Although there is little record of Annie's life, it is apparent she had a magnetic pull on his affections from the start to the finish of their marriage. One visitor who saw them working together in the kitchen after he retired reported he was still acting toward her like a newly wed. She died of cancer in 1921.
When I was nearly finished with my dissertation research, I made an appointment to interview Harrison Ruffin Tyler, who was Dr. Tyler's second son by his second wife. One Sunday afternoon, we met at Lion's Den, which had been John Tyler's hunting lodge and which was Lyon Tyler's second retirement home. Not far from Sherwood Forest, it is a modest frame cottage on a creek forming a long inlet from the James River. The setting in that riverside glen is one of the most peaceful and relaxing I have seen. Going there feels like stepping into a place where time and care become relatively unimportant. There Lyon G. Tyler lived with his second wife Sue Ruffin from their marriage in 1923 until his death in 1935.
Harrison is a man with a bronzy complexion, a self-confident and agreeable manner. He is a man of few words but has a lot of presence. I was hoping for an epiphany of information when I asked, "What do you remember about Dr. Tyler?" Instead, this is what Harrison said: