Thomas Dunn English



(1819-1902)
Pennsylvania, New York, West Virginia, & New Jersey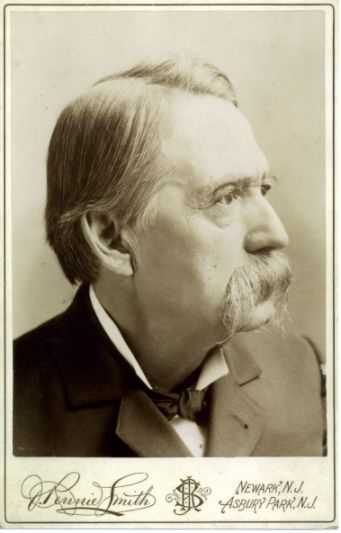 Physician, lawyer, poet, playwright, novelist, journalist, and politician
Thomas Dunn English was born in Philadelphia on June 29, 1810. His family, Quakers, came to America with William Penn and settled in New Jersey. English graduated from the medical department of the University of Pennsylvania in 1839, and then studied law and was admitted to the Philadelphia bar in 1842. English moved to New York, edited a daily paper, and commenced publication of The Aristidean, a literary magazine which survived only its initial offering. English continued to write but decided to move to Virginia, in what is now Logan County, West Virginia, to practice medicine. He maintained this residency from 1852 until 1857, when he moved back to New York, and the following year, to New Jersey. In New Jersey he served in the state legislature from 1863 to 1864 and was elected to Congress in 1891 for two terms but was defeated in his 1894 reelection effort. English wrote poetry throughout his life and according to one commentator, published over a thousand poems in magazines and periodicals. English died at Newark, New Jersey in 1902.
Thomas Dunn English, with Thomas Burke, Jonathan W. Gordon, Edward Robeson Taylor, and George D. Prentice, has the distinction of being not only a lawyer-poet, but a lawyer-physician-poet. (Thomas Dale, another poet, while not a lawyer, served as a judge.)
Thomas Dunn English
Biographical Directory of the United States Congress
Thomas Dunn English
The Vault at Pfaff's
An Archive of Art and Literature by New York City's
Nineteenth-Century Bohemians
(Lehigh University Digital Library)
Philadelphia Composers: Nelson Kneass
University of Pennsylvania Library
A History of Logan County, West Virginia
Images
[image #1] [image #2] [image #3]
Poems
[Ben Bolt] [Ben Bolt] [Ben Bolt] [The Old Mill] [The Battle of New Orleans]
A Ballad of Louisiana
Harper's New Monthly Magazine
Vol. 20, January, 1860.
Poetry
Thomas Dunn English, Zephaniah Doolittle, a Poem (Philadelphia: [s.n.], 2nd ed., 1838)
________________ (ed.), The Book of Rubies: A Collection of the Most Notable Love Poems in the English Language (New York: Charles Scribner's, 1866) [online text]
________________, Gasology (Philadelphia: John Donkey & Co., 1878)(1877)
________________, American Ballads (New York: Harper & Brothers, 1880)
________________, The Boy's Book of Battle-Lyrics (New York: Harper & brothers, 1885) [online text] [online text]
_________________, The Select Poems of Dr. Thomas Dunn English (Newark, New Jersey: Private Subscription, 1894)(Alice English ed.) [online text] [online text]
Writings
Thomas Dunn English, The Aristidean (New-York: Lane & Co., 1845)
_________________, Walter Woolfe, or, The Doom of the Drinker (New York: William B. Smith, 1847)
________________, The French Revolution of 1848: Its Causes, Actors, Events & Influences (Philadelphia: G.B. Zieber & Co., 1848)(co-authored with G.G. Foster)
________________, The Mormons, or, Life at Salt Lake City: A Drama in Three Acts (New York: S. French, 1858)
________________, Ambrose Fecit, or, The Peer and the Printer, a Novel (New York: Hilton, 1867) [online text] [online text]
________________, Zara, or, The Girl of the Period, a Novel (New York: Hilton and Syme, 186-?)
________________, Jacob Schuyler's Millions, a Novel (New York: D. Appleton, 1886)
________________, Skeleton Essays, or Authorship in Outline; consisting of condensed treatises on popular subjects ... and directions how to enlarge them into essays, or expand them into lectures ... (New York: Dick & Fitzgerald, 1890) [online text]
________________, Hurrah For You, Old Glory (Newark: A. English, 1895)
________________, Fairy Stories and Wonder Tales (1897)
________________, Little Giant, the Big Dwarf and Two Other Wonder-Tales for Boys and Girls from Eight to Eighty Years Old (Chicago: A. C. McClurg and Co., 1904)
Bibliography
Mark Canada, "Thomas Dunn English," in American National Biography (New York: Oxford University Press, 1999)
Research Resources