George Denison Prentice



(1802-1870)
Connecticut & Kentucky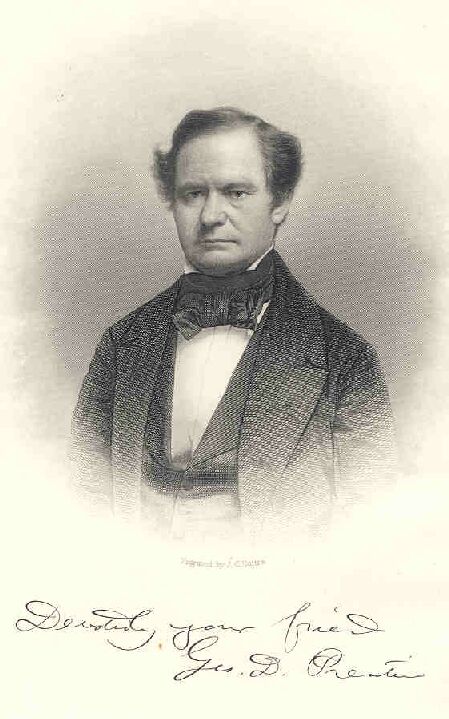 Engraving/Frontispiece

George Denison Prentice, The Poems of George D. Prentice
(Cincinnati: R. Clarke & Co., 3rd ed., 1877)
&
The Biographical Encyclopaedia of Kentucky of the Dead and Living Men of the Nineteenth Century 645 (Cincinnati: J.M. Armstrong & Company, 1878)
George Denison Prentice was born in Preston, Connecticut on December 18, 1801. And at age 15, according to William Turner Coggeshall, was appointed principal of a local public school. Prentice seems to have survived his youthful tenure as a school principal, attended college, graduated from Brown University in 1823, and then took up the study of law. He was admitted to the bar in 1827 (or a few years later, according to different biographical profiles). He apparently did not ever take up the practice of law. ["George D. Prentice," in The National Cyclopaedia of American Biography 123 (New York: James T. White & Co., 1893)(vol. 3)]
In 1828, he became editor of the New England Weekly Review. In the summer of 1830, Prentice left the Review in the hands of John G. Whittier and set off to visit the South, drawn primarily by his admiration for Henry Clay. (Prentice would publish a biography of Clay in 1831). After these travels, Prentice settled in Louisville, Kentucky and in November of that year established the Louisville Journal which he then served as editor. Prentice, in addition to being a newsman, continued his literary interest as a writer of both verse and prose.
[Sources: William Turner Coggeshall, The Poets and Poetry of the West: With Biographical and Critical Notices 121-22 (Columbus, Ohio: Follett, Foster and Company, 1860); Lewis Collins, Historical Sketches of Kentucky (1847); Mildred Lewis Rutherford, The South in History and Literature: A Hand-Book of Southern Authors From the Settlement of Jamestown, 1607, to Living Writers (Athens: Franklin-Turner Co., 1907)(1906); The Biographical Encyclopaedia of Kentucky of the Dead and Living Men of the Nineteenth Century 644-647 (Cincinnati: J.M. Armstrong & Company, 1878)]
George D. Prentice, has the distinction of being, along with Thomas Burke, Jonathan W. Gordon, Edward D. Taylor, and Thomas Dunn English, not only a lawyer-poet, but having acquired the skills to practice medicine as well.
George Denison Prentice
Appleton's Cyclopedia of American Biography
(New York: D. Appleton and Company, 1887-1889)(James Grant Wilson & John Fiske eds.)(6 vols.)
Poems
[Memories] [New England] [Untitled Poem] ["The River in Mommoth Cave" in Josiah Henry Combs (ed.), All That's Kentucky 97-98 Louisville: John P. Morton & Company, 1915)] [online text]
["Closing Year," in Bennett H. Young (ed.), Kentucky Eloquence. Past and Present. Library of Orations, After-Dinner Speeches, Popular and Classic Lectures Addresses and Poetry 467-468 (Louisville, Kentucky: Ben LaBree, 1907)] [online text]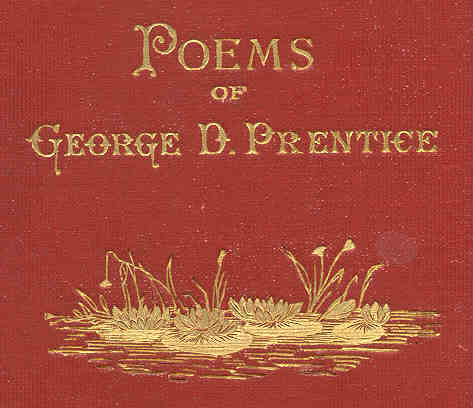 Poetry
George Denison Prentice, The Poems of George D. Prentice (Cincinnati: R. Clarke & Co., 1876)(with a biographical sketch by John James Piatt)(3rd ed., 1877) [online text] [online text] (5th ed., 1887)
Writings
George Denison Prentice, Biography of Henry Clay ( Hartford, Connecticut: S. Hanmer, Jr. and J.J. Phelps, 1831) [online text]
___________________, Prenticeana, or Wit and Humor in Paragraphs (New York: Derby & Jackson, 1860)(Gilderory Wells Griffin ed.) [online text]
Research Resources
George D. Prentice Papers
Filson Historical Society
Louisville, Kentucky